New recordings and more!
July 3, 2018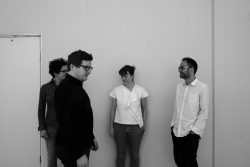 News!
So, it looks like Spirograph Studies may finally have a debut release on the horizon! We just finished recording last week and it is sounding mighty fine, if I do say so myself… If you're interested, sign up to the mailing list to hear the first news of it.
Apart from running Spirograph Studies, I also get to play with some other fantastic bands, so hop onto my gig page and come and see some other gigs! Some of these groups have also been busy recording: ATM15 have just released an album (details should appear soon on the recordings link) and I've also been in the studio with the wonderful Harriett Allcroft, so stay tuned for that release as well.
Thanks for reading!
---