Spirograph Studies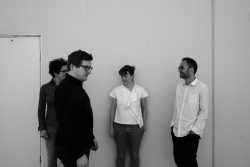 Spirograph Studies have leapt onto the Australian music scene with their detailed, textural approach to playing improvised music. Post-rock, post-jazz and post-minimalism, they shamelessly steal sonic palettes from all areas to build their cinematic sound.
This collaborative group features Luke Howard (piano), Fran Swinn (guitar) & James McLean (drums). This strong collection of music-makers each bring their unique voice to the stage as part a united front led by bassist Tamara Murphy.
In 2019, they tour around Australia and NZ to launch their debut album, Kindness, Not Courtesy.
Murphy was awarded the inaugural PBS Young Elder of Jazz Commission for the creation and presentation of a new work: Big Creatures & Little Creatures. She ran her group, Murphy's Law, for 14 years and was also a member of the Keller-Murphy-Browne co-operative. She features on multiple releases and her albums have been nominated for The Age Genre Awards, AIR awards and The Bell Awards.
Spirograph Studies have performed at clubs around Australia and at festivals including: Wangaratta Jazz Festival (their show was streamed live on Facebook via ABC Jazz), they were the closing night act of the 2016 Melbourne Women's International Jazz Festival and the opening night of the 2017 Melbourne International Jazz Festival, supporting US guitarist Bill Frisell.